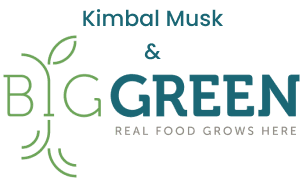 SDG #11: SUSTAINABLE CITIES AND COMMUNITIES
Make cities and human settlements inclusive, safe, resilient, and sustainable.
Overview
EG News Links
Media
About
We believe growing food changes lives. Growing food improves nutrition security and mental health, increases time spent outdoors, and cultivates a deeper appreciation for our collective impact on the climate.
Big Green was founded in 2011 by Kimbal Musk and Hugo Matheson with a mission to teach kids about real food. Big Green now supports schools, families, and communities across the country to grow their own food through training, grants, garden bed donations, and by providing garden materials directly to the people on the frontlines of growing food: teachers, parents, non-profit leaders, and local advocates leading food movements in their communities.